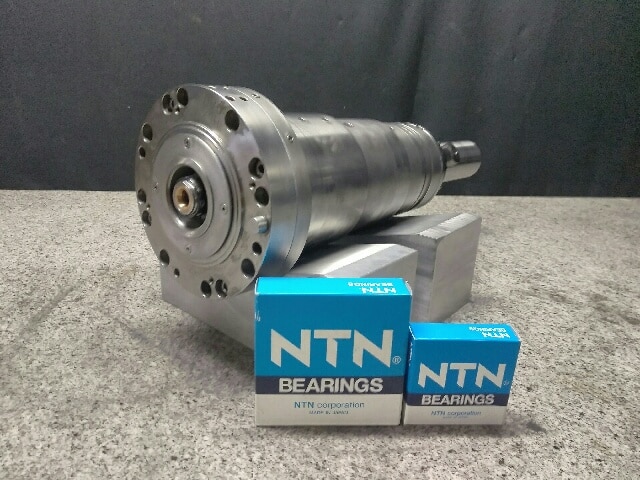 The spindle is the heart and soul of any CNC machine tool. When your spindle breaks down, it is frequently one of the most expensive components to repair on any CNC machine. Keeping a functional spare spindle in your inventory for every machine tool in your facility is usually not an option for most companies. Spindle repair is often a much more cost effective solution. It is important to get spindles repaired with speed and precision, which is what Motor City Spindle Repair offers, often times at a fraction of the cost of the OEM.
At Motor City Spindle Repair, we understand that when your machine tool spindle goes down, what's most important is bringing your machining center back up and running. We offer a quick and efficient rebuild of your DMG machine tool spindles by some of the most highly skilled spindle technicians in the industry. These spindle technicians have worked with some of the largest spindle OEM in world. That includes Kessler who is the number one spindle supplier to DMG.
If you are experiencing machine down, don't hesitate to contact us immediately to receive an estimated cost and lead time to have your machine tool spindle rebuilt with minimal down time.
A partial list of DMG spindles this facility has rebuilt:
DMG Turning Center Repair:
DMG NEF Series, CTX Series, NL Series, NLX Series, CL Series, SL Series, DuraTurn Series, DGM CTX TC Series, DMG NT Series, DMG ecoTurn Series
DMG NTX Series, DMG CTX 4A Series,DMG NZX-S Series, DMG NZX Series, DMG CTV Series, DMG NVL Series,DMG VL Series, DMG SPRINT Series, DMG MSL Series, DMG GM Series, DMG GMC Series
DMG Milling Machine Repair:
DMG DMU Series, DMG DMF Series, DMG HSC Series, DMG ecoMill
DMG 5-axis Machining Center Repair:
DMG DMU eVo Series, DMU monoBLOCK Series, DMU P duoBLOCK, DMU P Portal Series, DMG DMU FD duoBLOCK Series, DMG DMU FD Portal Series, NMV Series, DIXI Series
DMG DMC monoBLOCK Series, DMG DMC U duoBLOCK Series, DMG DMC duoBlock Series, DMG DMC U Portral Series, DMG DMC FD duoBLOCK Series, DMG DMC FD Portal Series, DMG NMH Series
Vertical Machining Center Repair:
DMG DMC V Series, DMG NVX Series, DMG NV Series, DMG NVD Series, DMG MAX Series, DMG DuraVertical Series, DMG ecoMILL V Series
Horizontal Machining Center Repair:
DMG NHX Series, DMG DIXI JIG Series, DMG DIXI DHP Series, duoBLOCK, DMG DMC H linear Series,DMG i-SERIES
If your machine tool spindle is not listed please give us a call at 734-261-8600.
All Quotations are 100% free of charge and are accompanied by a detailed failure analysis report!
Request a Quote