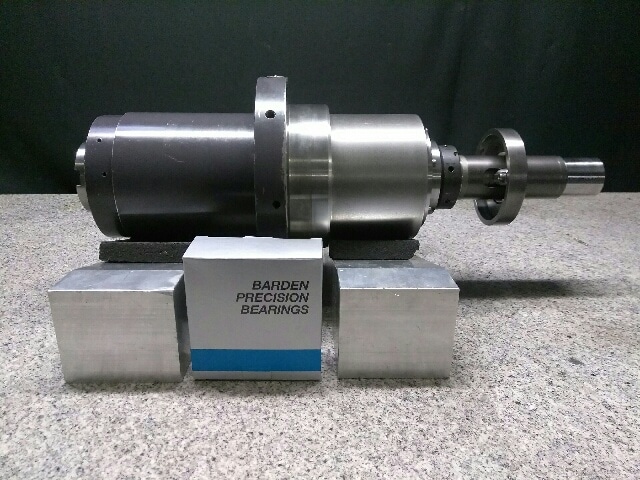 Motor City Machine Tool Repair offers complete Haas spindle repair for various machining applications. Our spindle technicians have extensive experience in rebuilding most of the Haas 5-axis machining center, VMC, HMC, and Turning Center Spindles. This facility continuously works on many Haas spindles for milling and grinding applications.
Motor City Machine Tool Repair is one of the leaders in precision spindle repair. We employ some of the most skilled spindle technicians in the industry. These spindle techs utilize state of the art equipment to test and balance spindles. We pride ourselves in our ability to consistently balance spindles so they produce little to no vibration. The lack of vibration while the spindle runs ensures that the spindles lifespan is long.
This facility holds in-house machining and grinding capabilities which allows qualified partners to turn around components quickly, such as, spindle tapers, pilot I.D.s, front and rear bearing journals, housing bores, draw bar shafts, splines, and other components needed to be re-qualified or manufactured new.
A partial list of Haas spindles this facility has rebuilt:
Haas VF-1, VF1-1YT, VF-2, VF2-YT, VF-3, VF-3YT, VF-4, VF-5/40, VF-5/40XT, VF-6/40, VF-8/40, VF-7/40, VF-9/40, VF-10/40, VF-11/40, VF-12/40
Haas VF-3YT/50, VF-5/50, VF-5/50XT, VF-6/50, VF-8/50, VF-7/50, VF-9/50, VF-10/50, VF-11/50, VF-12/50, UNC-750
Haas VF-2SS, VF-2SSYT, VF-3SS, VF-3SSYT, VF-4SS, VF-5SS, VF-6SS, VM-2, VM-3, VM-6, DT-1, MDC-500, , VF-2TR, VF-5/40TR, VF-5/50TR, VF-6/40TR, UMC-750, VF-6/50TR, VR-8, VR-11B
Haas MINIMILL, MINIMILL3, SMINIMILL, SMINIMILL2, TM-1, TM-1P, TM-2, TM-2P, TM-3, TM-3P, OM-1A, OM-2A, SR-100, VF-3APC, VF-3SSAPC, VF-4APC, VF-4SSAPC, VS-3
Haas EC-1600, EC-1600YZT, ES-5-4AX, ES-5-4T, HS-3R, EC-300, EC-400, EC-400PP, EC-500
Haas OL-1, TL-1, TL-2, TL-3, TL-3W, TL-3B, ST-10, ST-20, ST20SS, ST-30, ST-30SS, ST-40, ST-40L, ST-20SS, ST-20SSY, ST-30SS, ST-30SSY
Haas ST-30SS, ST-30SSY, DS-30, DS-30SS, DS-30SSY, DS-30Y, ST-10Y, ST-20Y, ST-20SSY, ST-30SSY, ST-30Y, ST-30Y, ST-30SSY
If your machine tool spindle is not listed please give us a call at 800-716-4601.
All Quotations are 100% free of charge and are accompanied by a detailed failure analysis report!
Request a Quote