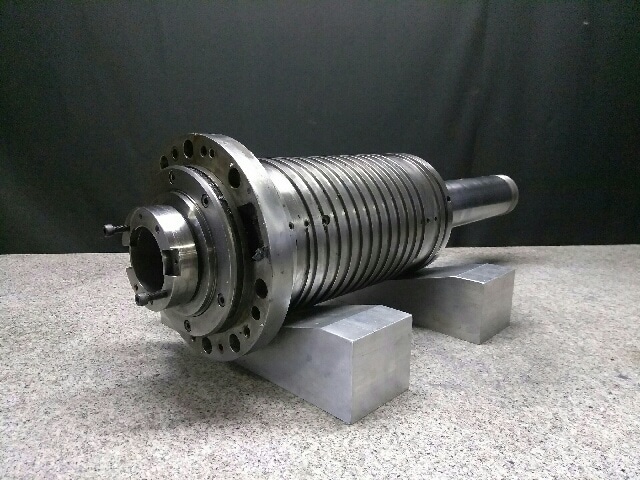 Kitamura has been in the machining industry for over eighty years, which is one reason why they are such a prolific spindle manufacturer. We have experience rebuilding most makes of and models of Kitamura spindles, be it motorized or belt driven spindles.  We have repaired virtually every model Kitamura Mycenter spindle on the market.  All Kitamura spindles are test run at Max RPM while performing vibration and temperature analysis.  We also rework all the critical dimensions in the spindle to ensure maximum spindle life.  If you have a Kitamura spindle in need of repair give us a call to save both machine down time and cost of a rebuild. We can give you a free quote based off of previous Kitamura spindles we have rebuilt, which will be less than our competitors.
Motor City Machine Tool Repair employs some of the top spindle technicians in the Midwest. They utilize some of the most advanced diagnostic equipment for testing and fine tuning spindles. Every spindle that is repaired is first precisely balanced before it leaves our facility. This balance is critical for the spindle to have a long lifespan, and run like it were brand new.
Please see below list for a few of the Kitamura spindles we have rebuilt:
Kitamura Bridgecenter-10, Bridgecenter-8F
Kitamura Mycenter 1, 2, 3, 4, 1X, 2X, 3X, 4X, 7X
Kitamura HX400if, HX500if, HX250G, HX400G, HX400iFTGA, HX500iTGA, HX630iTGA, HX800iLTGA, HX1000i, HX1250i
Kitamura Mytrunnion 5 axis, Mytrunnion-5, Mycenter-Supercell400
If your machine tool spindle is not listed please give us a call at 800-716-4601.
All Quotations are 100% free of charge and are accompanied by a detailed failure analysis report!
Request a Quote