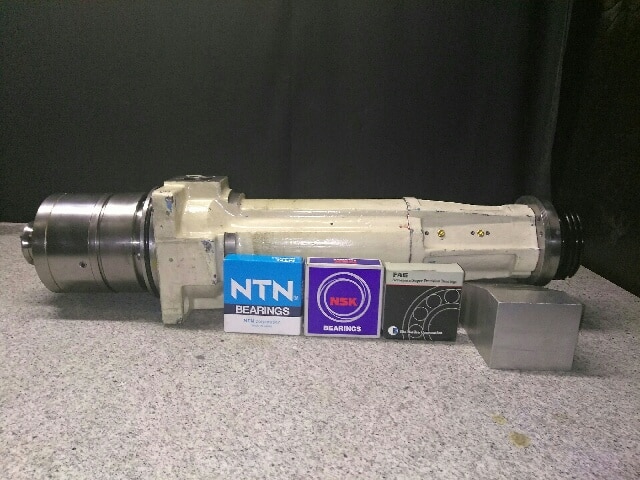 Motor City Spindle Repair carries vast experience rebuilding many of the HMC & VMC Makino spindles. With a dedicated Makino test stand in the facility that allows us to run every spindle at Max RPM, while circulating both the spindle oil and coolant throughout the unit. This closed loop system ensures that there are no leaks and that the entire spindle is properly functioning. This dedicated Makino spindle test stand makes us the industry leader in Makino spindle repair.
Much of the Makino line are direct drive spindles, which can be a more in depth repair processes with components such as encoders, proximity switches and sensors that may need repair or replacement. We have sophisticated diagnostic equipment to test all of these components, to ensure your spindle runs optimally. We utilize this equipment while we balance all our spindles, so they run with little to no vibration. This lack of vibration produced while a spindle is running, will allow it to run precisely for years to come.
Motor City Spindle Repair offers you the most aggressive lead times in the spindle repair industry. If you are in need of a spindle repaired fast, we can accommodate a turnaround time of 1-3 business days in emergency situations.
A partial list of Makino spindles this facility has rebuilt:
Makino Horizontal Machining Centers:
Makino A Series, A55, A66, A77, A88, A99, A99E, A100E
Makino 1 Series, a51, a51nx, a61, a61nx, a71, a81, a81M, a81nx, a82, a82M, a92
Makino J Series, J3, J55 SA, J55 ISO, J4M
Makino MCC Series, MCC2013, MCC2513, MCC2516, MCC3018
Makino MCD Series, MCD3018, MCD2516, MCD1816, MCD1513
Makino N Series, N2
Makino Horizontal 5-Axis Machining Centers:
Makino 1 Series, a51nx-5XU, a61nx-5E
Makino G Series, G5, G7
Makino MAG Series, MAG1, MAG3, MAG3.H, MAG3.EX, A7
Makino MCC Series, MCC2013-VG, MCC2516-VG, MCC3016-VG
Makino MCD Series, MCD1516-5XA, MCD2016-5XA, MCD2516-5XB
Makino N Series, N2-5XA
Makino T Series, T1, T2, T4
Makino Vertical Machining Centers:
Makino F Series, F3, F5, F8, F9
Makino GF Series
Makino Vertical 5-axis Machining Centers:
Makino v33, Makino J55, J88
Makino Jet 50, Makino Mag 3
If your machine tool spindle is not listed please give us a call at 734-261-8600.
All Quotations are 100% free of charge and are accompanied by a detailed failure analysis report!
Request a Quote