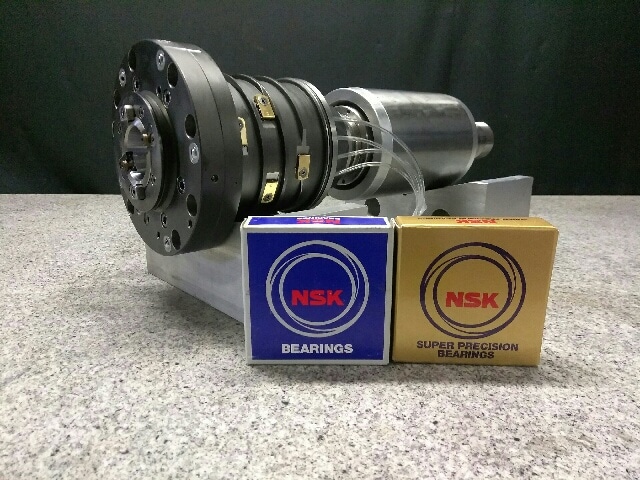 Motor City Spindle Repair  has rebuilt more makes and models of Mori Seiki spindles than any other OEM. The majority of Mori Seiki Machining center spindles are cartridge type units which leaves the rear assembly of the spindle in the machine. Our in-house machines have a process developed that allows for a test run of these units at Maximum RPM, to ensure that the unit is ready to be placed into production. This is an example of why your next spindle repair call should be placed with Motor City Spindle Repair, an industry leader in Mori Seiki spindle repair.
Every spindle that is repaired by us is balanced by one of our experienced spindle technicians. They do a static and dynamic balancing of all the components of a spindle. Every spindle is ready to ship back to the customer once it is running with little to no vibrations, which ensures the spindle runs as if it were brand new for a very long time.
DMG Mori Seiki is one of the most prolific spindle manufacturers in today's industry. Mori Seiki spindles are known for their quality and longevity of operation. DMG Mori Seiki's core values stems from three integral elements, consisting of "Products," "Solutions," and "Service & Parts." A common goal shared is to maintain a high level of customer satisfaction for a long term relationship built on trust and quality service.
A partial list of Mori Seiki spindles this facility has rebuilt:
Mori Seiki NVX Series, NVX5000II, NVX7000, Mori Seiki MILLTAP 700, DMC 635 V ecoline
Mori Seiki NV Series, NV4000 DCG, NV5000 DCG
Mori Seiki DuraVertical Series, DuraVertical 5060, DuraVertical 5080, DuraVertical 5100
Mori Seiki NVD1500 DCG, NVD5000, NVD5000, NVD6000
Mori Seiki UTILIMILL V3000, Mori Seiki MAX3000
Mori Seiki NHX Series, NHX10000, NHX8000, NHX6300, NHX5500, NHX4000
Mori Seiki NH Series, NH4000 DCG, NH5000 DCG/40, NH5000/50
Mori Seiki NTX Series, NTX2000/1500, NTX2000/1500T, NTX2000/1500TZ, NTX2000/1500TZM, NTX2000/1500S, NTX2000/1500SZ, NTX2000/1500SZM
Mori Seiki NTX1000, NTX1000/C, NTX1000/T, NTX1000/W, NTX1000WZ, NTX1000WZM, NTX1000S, NTX1000SZ, NTX1000SZM
Mori Seiki NT3150 DCG, NT3200 DCG, NT4200 DCG, NT4250 DCG,NT4300 DCG, NT5400 DCG, NT6600 DCG
Mori Seiki NZX Series, NZX1500, NZX2000, NZX2500, NZX4000, NZX6000
Mori Seiki NZX-S Series, NZX-S1500, NZX-S1500/500, NZX-S/1500
Mori Seiki NMV Series, NMV3000 DCG, NMV5000 DCG, NMV8000 DCG, NMV8000/40 DCG, NMV8000/50 DCG
Mori Seiki DMU eVo Series, DMU 60 eVo, DMU 50 econline
Mori Seiki NMH Series, NMH6300 DCG, NMH10000 DCG
Mori Seiki MH630, MH63, MH50, MH500, MH40, MH1000,
Mori Seiki MV JR, MV35, MV55
Mori Seiki NH5000, NH4000, NH5000DCG,
Mori Seiki NV series, Mori Seiki CL series, Mori Seiki DL Series, Mori Seiki MT Series,
Mori Seiki NLX Series, NLX1500, NLX2000, NLX3000, NLX4000
Mori Seiki NL Series, NL2500, NL3000, NL3000MC, NL3000Y
Mori Seiki NVL Series, NVL1350, NVL1350T, NVL1350MC
Mori Seiki VL Series, VL 253A1, VL 253A2, VL 553 II, VL 553MC II
Mori Seiki Ecoline Series, CTX 310 ecoline V1, CTX 310 ecoline V3
Mori Seiki DuraTurn Series,DuraTurnMori 2030, DuraTurn 2050, DuraTurn 2050MC, DuraTurn 2550, DuraTurn 2550MC
Mori Seiki SL Series, SL 403, SL 603, SL 803
Mori Seiki CL Series, CL1500, CL2000, CL-253A, CL-253B
Mori Seiki SV Series, Mori Seiki SL Series, and nearly every Mori Seiki spindle in service today.
If your machine tool spindle is not listed please give us a call at 734-261-8600.
All Quotations are 100% free of charge and are accompanied by a detailed failure analysis report!
Request a Quote