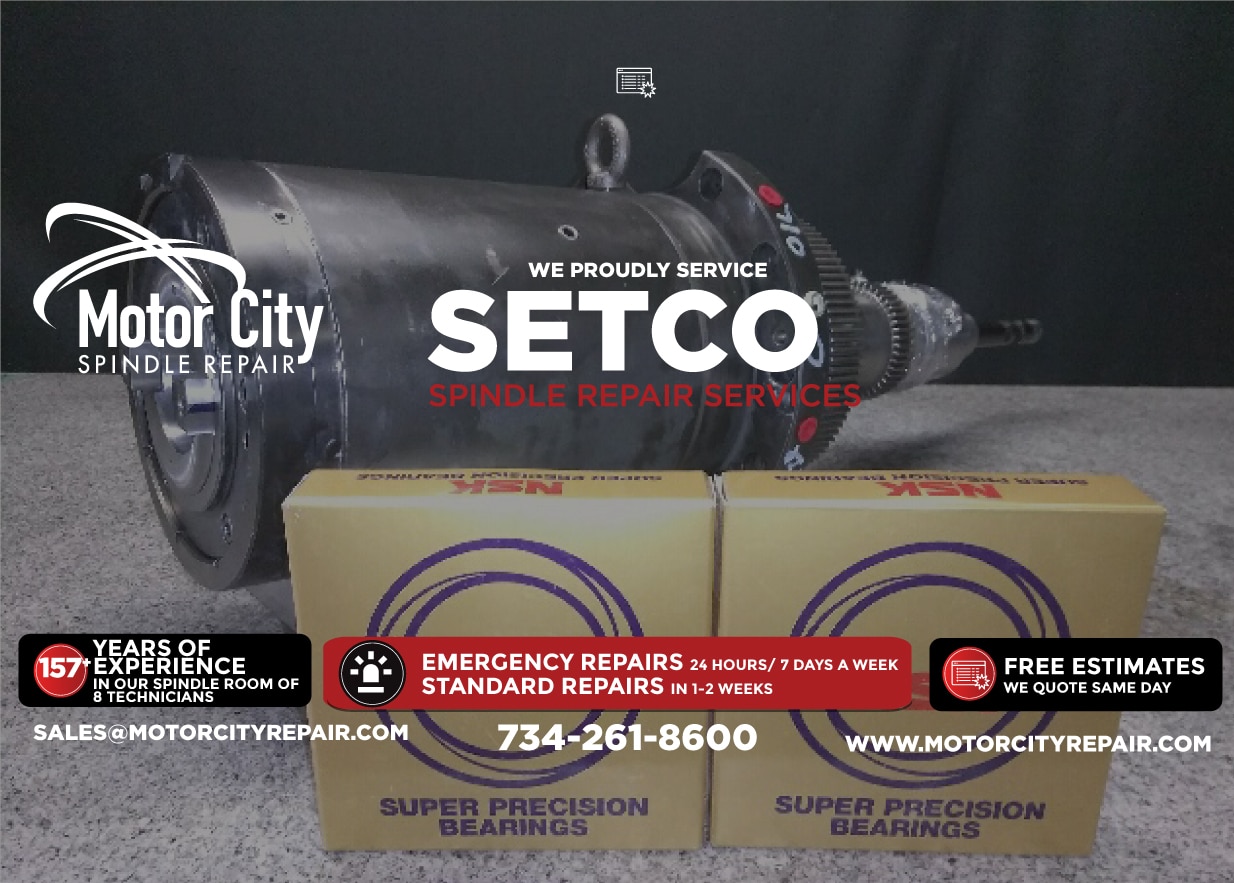 Motor City Spindle Repair has repaired countless Setco spindles over the years. We have become so efficient at rebuilding Setco spindles, we almost always repair with faster turn-around times and lower costs than the OEM. Whether it's a motorized or belt driven spindle, block or cartridge; we have the advanced technology, knowledge and experience to rebuild your Setco spindle. With the assistance of some of the top Spindle Technicians in the Mid West, our facility can repair any Setco spindle you send our way. Our Technicians utilize state of the art diagnostic equipment to test and balance every spindle they repair. This ensures the precision of the repair as well as the longevity of the spindles lifespan. We guarantee any Setco spindle repaired by us will run as good as new.
Setco is highly recognized for their innovative spindle solutions for design and manufacturing, with an emphasis on producing reliable spindle designs.
The most common Setco spindles rebuilt here include: Setco 5-axis spindles, Setco VMC spindles, Setco HMC spindles, Setco Milling spindles, Setco Grinding spindles, and Setco Turning Center spindles.
A partial list of Setco spindles this facility has rebuilt:
Setco RM Series, Setco RA Series, Setco 4200MGQ Series
Setco 4200PG Series, Setco 4200WG Series
Setco Sentry Series
Setco ProMetrix Series
Setco 4000 Series (Boring, Milling, and Grinding)
Setco Internal Grinding Series
Setco 2900 Series Planetary
Setco Spark Erosion Grinding
Setco Electrolytic Spindles
Setco Closed Loop 'Smart' CNC Spindle
Setco 6100 Series (Boring, Milling, and Grinding )
Setco 6100MLC Series Liquid Cooled
Setco 6100D Dovetail Series
Setco 2700/2800 Series Surface Grinding
Setco 2700S/2800S Shank Mounted Series
If your machine tool spindle is not listed please give us a call at 734-261-8600.
All Quotations are 100% free of charge and are accompanied by a detailed failure analysis report!
Request a Quote