Speed Reducers / Gear Boxes Repair at Motor City
Motor City Spindle Repair specializes in repairing Speed Reducers / Gear Boxes. All speed reducers are gearboxes but not all gearboxes are speed reducers. Speed reducers are gear trains between a motor and a piece of machinery. The speed reducer  reduces the rpm that is transmitted between these two end points. Speed reducers take the torque created by the motor  and multiply it along with reducing the speed (the rpm output) of the input so that the output is the correct speed.
Gearbox is the gear train between a motor and a piece of machinery.
Therefore, all speed reducers are gearboxes.
However, not all gearboxes are speed reducers. Special gearboxes can be tooled to increase the speed of the input but are not common so therefore, not all gearboxes are speed reducers.
Our  skilled technicians have worked on a number of different gear boxes with varied complexities.
Motor City Spindle Repair has some of the fastest lead times in the Midwest. We are able to turn around machine repair  quickly, because we have skilled workers with experience.
Contact us at (734) 261-8600 for your next opportunity with Motor City Spindle Repair.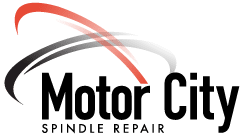 157+ Years of Experience In Our Spindle Room Serving the Largest Corporations in the USA
Aerospace
Automotive
Agriculture
Machine Tool
and many others
24/7 Emergency Repair Service + We Deliver.
Industry's Most Aggressive 1-3 weeks for standard repairs
We will get your machine running in no time.
Dedicated staff available 24/7 to assist you with emergency spindle repair services.
We offer door-to-door pickup and delivery on our emergency repair services.
We Repair Depending On Your Need.
Guaranteed Cost Savings as we have in-house machining and grinding capabilities
8 Full Time Technicians in our spindle room
Balanced, Test Run, and Certified with A Full 1 Year Warranty
Spindles are test run at maximum RPM, while performing vibration & temperature analysis.
Bearings are checked for velocity & displacement.
All electrical components are tested, repaired and replaced as needed.
Dynamic & Static Balancing of Spindles at maximum RPM.
Repair specialists for your Motorized or Belt Driven machines:
Horizontal Machining Centers
Vertical Machining Centers
Turning Centers
Grinding Machines
Any other machine tools
We offer the following spindle upgrades:
Air Purge
Ceramic Bearings
New Bearing Configuration
Encapsulate Motor Windings
Retrofit spindle shaft with removable drive keys
We specialize in Fanuc Servo Motor Repair, including:
i series
DiS series
ALPHA series
BETA Series
ROBODRILL series