OUR SKILLS
We frequently repair spindles in 1-3 business days in emergency situations. Our in-house machining and grinding capabilities and qualified partners allow us to turn around components fast such as: spindle tapers, pilot I.D.s, front and rear bearing journals, housing bores, draw bar shafts, splines, and many other components needed to be re-qualified or manufactured new.
We understand the importance of decreasing machine down time so we stock precision bearings, seals, o-rings, encoders, and other commonly replaced spindle parts. Our Four Spindle Test Stands are all equipped with variable frequency drives to allow us to rebuild, test run and ship multiple spindles daily.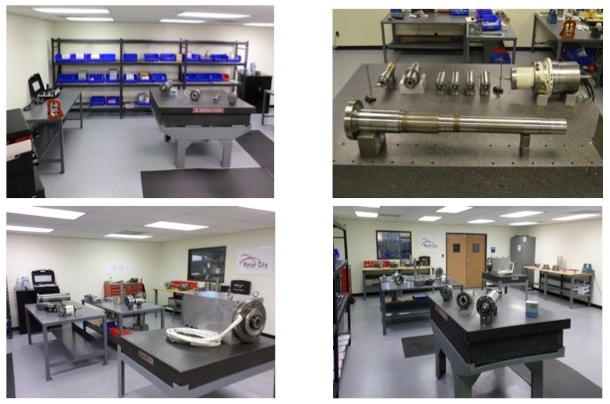 All Quotations are 100% free of charge and are accompanied by a detailed failure analysis report!
Request a Quote
WE REPAIR ALL TYPES OF SPINDLES
Motor City Machine Tool Repair specializes in rebuilding spindles for CNC machine tools such: Horizontal Machining Center Spindles, Vertical Machining Center Spindles, Lathe or Turning Center Spindles, and Grinding Spindles. Our emphasis is focused on Motorized Spindles and all types of High Speed Spindle Repair, but we also rebuild: Belt Driven Spindles, Direct Drive Spindles, Gear Driven Spindles, Hydrostatic and Hydrodynamic Spindles.
We also repair Machine Tool Components such as Way Cover Repair and Ball Screw Repair. If you have a Ball Screw that is beyond repair, we are capable of manufacturing New Ball Screws to factory specifications.
HIGHLY SKILLED & EXPERIENCED STAFF
Our dedicated staff is committed to getting your machine tools back up and running as quickly as possible.  We hire only the most experienced technicians, of which have an average of 20 years experience repairing and rebuilding spindles.  Many of whom worked directly for foreign and domestic machine tool OEMs. In addition to our Spindle Technicians, we have a dedicated group of support staff that assist in moving along the repairs, and help to meet customers needs. We as a team are committed to customer satisfaction. Call our offices at 1-800-716-4601 to speak with one of our professional staff members about how we can assist you in your machine tool repair needs.
Five (5) Full Time Spindle Technicians with an average of 20 Years Experience Remanufacturing Spindles
All Three (3) Owners and Senior Spindle Technicians have worked directly for major Spindle OEMs
Two (2) Full Time Tear Down and Inspection Technicians
Motor City Machine Tool is dedicated to providing all of its customers with excellent cost savings.  If you are machine down, fill out our ONLINE QUOTE FORM or call 888-811-4999, and one of our qualified staff will discuss the root cause of your spindle failure. By contacting us you will receive a Free budgetary cost to rebuild your spindle over the phone, based on our previous experience with your make/model spindle will allow us to provide an estimated cost and lead time to rebuild your machine tool spindle based on the scope of work needed. Based on one-on-one interaction with our staff, together we will be able to determine if we can provide an emergency spindle repair for you.  We look forward to answering your questions to get your machine back up and running again.
In fact we are so confident we can beat your current vendors pricing, send us your last invoice and if we can't beat it, we will pay for the shipping to return the unit FREE OF CHARGE. Please note the scope of work to rebuild the units must be the same.
(This offer excludes Haas, Fadal, and some other make/model machine tools.  Our repair costs reflect standard repair lead times and Motor City Machine Tool has the right to turn down any repair as it deems necessary).