Every Spindle we Repair is Test Run & Balanced
Spindles are test run at maximum RPM, while performing vibration & temperature analysis.
Bearings are checked for velocity & displacement.
All electrical components are tested, repaired and replaced as needed.
Dynamic & Static Balancing of Spindles at maximum RPM.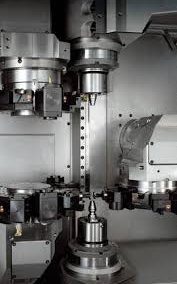 Spindle Run In Procedure
Start spindle at 10% of maximum rpm

 Run spindle for (10) minutes while continuously checking all spindle bearing temperatures do not exceed 120 degrees.

If any spindle bearing temperature exceeds 120 degrees stop spindle and allow it to cool to ambient temperature or completely below 80 degrees.

If all spindle bearing temperatures remain below 120 degrees increase spindle rpm by 10%. ϖ Repeat this process by increasing rpm at intervals of (20%) the maximum rpm until the maximum rpm is achieved.  If at any time any spindle bearing temperature exceeds 120 degrees stop the spindle and allow the bearing temperature for the entire spindle to drop to ambient temperature or below 80 degrees.

Once maximum rpm is achieved run the spindle for an additional (30) minutes before putting the spindle into production and do not allow bearing temperatures to ever exceed 120 degrees. If temperature exceeds 120 degrees restart entire run in procedure.

It is not uncommon while breaking in spindle bearings that a spindle must be stopped and allowed to cool until the bearings are "tracking" properly.