Motor City Spindle Repair repairs and rebuilds Centerless Grinding spindles. We also have Centerless Grinding Spindles for exchange or sale. Some Centerless grinders we repair include: Paragon, Cincinnati, Glebar, Mikrosa, Micron, Koyo & Jainnher to name a few. We can completely re-manufacture your centerless grinder spindle to the OEM specification. We offer:
Repair of your existing centerless grinder
Sales of re-manufactured and rebuilt centerless grinder
Sales & repair of Centerless grinding spindle components
We have the in house technology to run in your centerless grinding spindle. We can test to verify that all aspects of your spindle, both mechanically & electrically, are performing to the OEM specification. We are able to do this with the advanced equipment we own for spindle testing and diagnostics.
Centerless Grinding Machines are often used to grind a large quantity of cylindrical parts at fast speeds. When a centerless grinder goes down it can significantly slow or halt production. Motor City Spindle Repair understands the importance of getting your centerless grinder back up and running as soon as possible. That is why we offer one of the fastest lead times in the machine tool industry.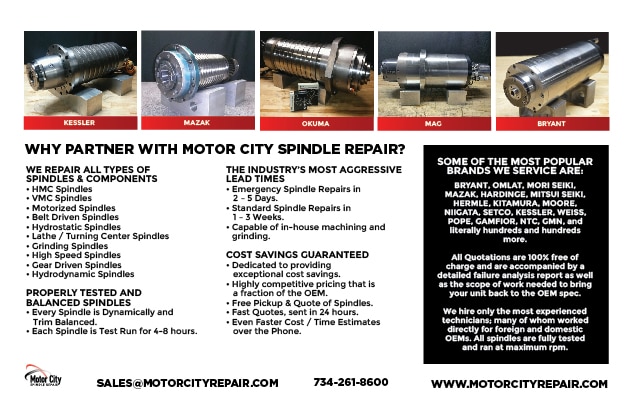 All Quotations are 100% free of charge and are accompanied by a detailed failure analysis report!
Request a Quote