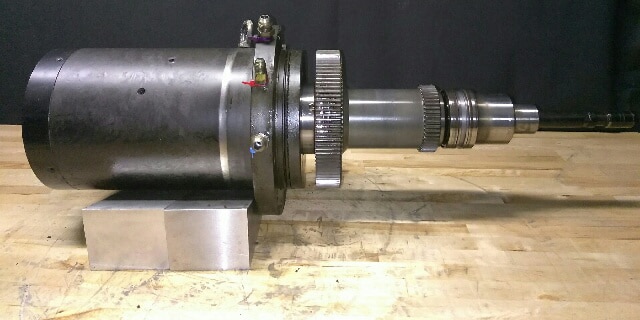 Motor City Spindle Repair specializes in Gear Driven Spindle repair. We can repair your Gear Driven spindle from any HMC, VMC, Turning Center, Grinding Machine, or any other application. We repair Gear Driven spindles for most of the spindle manufacturers, including: Mori Seiki, Doosan, Kira, Enshu, & Kitamura to name a few.
Our state of the art repair facility allows us to repair todays most complicated Gear Driven CNC Spindles. If your spindle shaft has a damaged spline, we have the ability to rework & make like new. Gears can too be requalified or remanufactured so that your spindle is functioning optimally. We are able to do this with our in house machining capabilities, which cuts down on lead times and costs.
At Motor City Spindle Repair we have the technology to test all aspects of these Gear Driven spindles. We understand the importance of having a long lasting repair, which is why we do a static and dynamic balancing of spindles. This allows the spindle to run at optimal functioning, and ensures that the least amount of vibration is produced by the spindles, thus improving the longevity of the spindles life.
All Quotations are 100% free of charge and are accompanied by a detailed failure analysis report!
Request a Quote